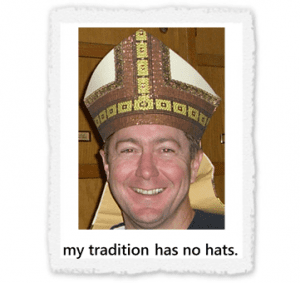 That I had followed Christ without appreciating the service and sacrifice of monks and nuns was a disadvantage. I am grateful for the example and hospitality of these amazing people. 
Last year at this time I was living at Mount Michael Abby in Elkhorn, Nebraska. The Benedictine monks were kind enough to let me come and be a part of their community. It is a week I will never forget. I have also had retreats at Subiaco Abby here in Arkansas.
My Baptist tradition didn't have much appreciation for Catholicism. Frankly, my Baptist tradition didn't have much appreciation for the Reformation, Protestant history or even our own Baptist heritage. We seemed to believe that Christian history jumped from Revelation 22:21 to the present moment. That Baptists I run with now, however, see things differently.
A small group at my church has recently enjoyed a study of monasticism. We have learned about Anthony of Egypt, Pachomius and St. Basil. We have learned the difference between eremitic (hermit-like) and cenobitic (communual) orders. We have learned about the wide range of monastic life as expressed among the Franciscans, Carmelites and Strict Cistercians. We have discussed monastic life in France, Italy and Cappadocia.
There are even monastic communities nearby. The Brothers and Sisters of Charity at Little Portion Hermitage in Eureka Springs, led by John Michael Talbot, are always opening their doors to people of any faith tradition. And the Benedictine brothers at Subiaco have guest quarters they are eager to share. And you might know about the Carmelites in Little Rock and the Benedictine Sisters in Jonesboro and Fort Smith.
Our eyes have been opened. Because the more we learn about monastic life the more we realize that this is not some 'unusual Catholic tradition' but these are deeply faithful Christians brothers and sisters who are fully committed to God. And the closer we've looked, the more we appreciate the Biblical basis of their lifestyles.
For example, the psalmist says "Seven times a day I praise you for your righteous laws." It is quite intentional that from Matins to Compline, brothers and sisters pray and worship seven times each day.
And while some orders focus more in silence and communal devotion to God, many monastic orders are highly involved in parish ministry, works of compassion among the hurting and impoverished, leadership in ministries of justice and much more. The work of Christ that is done by monks and nuns around the world is impressive and humbling.
Perhaps you've read those words of Christ that challenge you: "sell all you have and give it to the poor" and "the Son of Man has no place to lay his head." By their relinquishment of material goods, austere living and celibacy, monastic brothers and sisters epitomize Biblical instruction in ways that are very hard to find in Protestant circles. These faithful people are crucial examples of obedience and their faith and courage is inspiring.
It is unfortunate that most Protestants have little understanding of monastic life, not to mention rare opportunity to participate in these communities. I encourage you to learn more about this profound expression of Christian living and, perhaps, develop similar habits in your own life that have shaped Christianity for hundreds of years. Ora et labora!