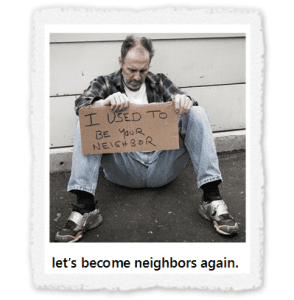 18 months after this column the first residents moved into their cottages at New Beginnings.
Someone is standing at an intersection with a sign or maybe they stop by and ask me for help. I never know what to do. I usually pray and hope for discernment. Do they want money for alcohol? Do they want to work? Are they professional panhandlers? Are they telling me the truth? I hate being so suspicious.
All of us, especially this time of year, are concerned for homeless people. No one should have to sleep in their car, pitch a tent in the icy woods or sleep in a packed room with forty strangers. What can we do?
If you've ever been to a homeless camp in Fayetteville you know the conditions are beyond deplorable. You may also know that getting out of homelessness is extremely difficult. The deposits for an apartment and utilities, the first and last month's rent and other expenses add up quickly. The gap between shivering in a tent or car and a warm, safe apartment can be insurmountable. Is there a solution?
I believe there is. Dr. Kevin Fitzpatrick, Professor of Sociology at the University of Arkansas, and many others, have been working long and hard to address this critical issue. Later this month in south Fayetteville ground-breaking will begin on the New Beginnings Transitional Micro-shelter Community. Twenty tiny houses, with heat-and-air, a desk, a storage locker and a good bed, will provide a safe place for those wanting to transition from homelessness to permanent housing.
New Beginnings will be secure and include a common area with a kitchen, showers and a laundromat. Case-workers will provide assistance for health, employment and other issues. Pets are welcome. And I am excited about how New Beginnings can help build relationships between people in need and people with shareable resources. If you are a dentist, a hairdresser, a Bible teacher, or enjoy playing volleyball or cooking BBQ you can come and help and make new friends. Wow.
Urban campsites hidden in the woods are dangerous. And you and I cannot discern who is really interested in permanent housing. And maybe we are frustrated with never-ending stop-gap measures that do not yield long-term real solutions. New Beginnings Community changes all this while providing a way to connect people from across the economic spectrum. This makes the Biblical mandate of gathering people in loving unity from all walks of life an actual possibility.
And before you start worrying about your tax dollars know this: New Beginnings is privately-funded. Money has already been raised to build the project and begin operations. But don't worry. Go to newbeginningsnwa.org and learn more about how you can be a part of this amazing project. Today you can give. Tomorrow you and your organization can volunteer or cook dinner or sponsor a shelter. You will be part of a solution to a serious community problem and, while you're at it, you might make a friend or two.