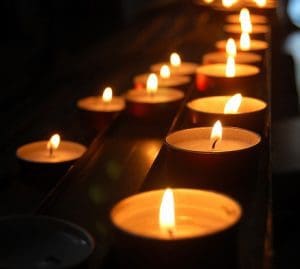 Candlelight Service for Grieving
Parents
Sunday, December 11, 7:00pm
1400 Rolling Hills Drive
Fayetteville, AR 72701
(In-person or live Facebook video)
Please join us for our 15th annual memorial service for grieving parents. The holidays can be a difficult time for those who are grieving. This service provides a safe and empathetic place for grieving parents to gather together and remember and celebrate their children.
This year's service is highlighted by a keynote address by Rev. Annie Lankford of Farmington UMC. Special music is included in the service as well as an opportunity to light a candle in memory of your child.
A reception will follow the service and you are invited to bring pictures of your child to display.
This service is in lieu of our December gathering of the Grieving Parents Support group which is held the rest of the year on the second Monday of the month at 6:00 at Rolling Hills Baptist Church, 1400 Rolling Hills Drive in Fayetteville. All religions and spiritualities are honored.
Please share this event with any grieving parent you know. Thank you.