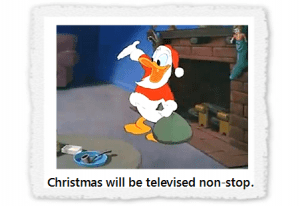 One of the best things our church does is our annual 'Living Nativity.' Real children ride real camels to Bethlehem and find the real baby in the real manger. Many parents, who may never visit our church, express tremendous gratitude for showing their families the real meaning of Christmas.  From Advent 2010.
Many Decembers ago, a friend and I trudged through the snow, walking from the divinity school campus down to the undergraduate college. Our goal was to watch a film that I no longer remember. Before the film started, they showed two short features. The first was a classic Disney cartoon with Donald Duck and two chipmunks. The second was a Technicolor short feature showing Christmas in the 1960s. It was bright-eyed children waking up on Christmas morning, eager to tear open their presents around a tinseled tree. It was the empty plate of cookies left for Santa. It was dad, smoking a pipe, and mom, wearing an apron — both smiling proudly. But something happened that I did not expect. The audience was laughing. Hilariously. They laughed even more than they did at Donald Duck assaulted by acorns. Yes, the 1960s Christmas feature was corny, but why was it so funny? That was my Christmas! Why are you laughing at my Christmas?
As many Christmases have passed, I understand the laughter. Most of those college students did not grow up in Midwestern, intact, Christian families. What was normal for me was a funny anthropological vignette for them. As a child my family strived for a traditional Christmas just as my family does today. Christmas at our house is like a Hallmark card or a Norman Rockwell painting. We bake cookies, carol for the neighbors, ride camels at our church's living nativity and tell the timeless story on Christmas eve. We watch It's a Wonderful Life, send out too many Christmas cards, cut our tree at a tree farm and completely redecorate our house. I could go on and on and on.
But I know that many do not celebrate Christmas like I do – if they celebrate at all. Some people are not festive. Some people despise the commercialization of Christmas. For some, Christmas is a time of heightened grief and loneliness. And for others, Christmas can add debt and other stress.
Whatever Christmas means to you, let me encourage you to create your own traditions. Don't worry about what others are doing or borrow someone else's traditions. Make your own traditions and celebrate in ways that work for you. Create traditions that don't require expensive gee-gaws or elaborate plans. Craft traditions that capture friendship and love for others, traditions of thoughtfulness and joy. Create traditions that are simple and honest, traditions that capture the true meaning of Christmas.
But there's a catch. Because Christmas traditions, whatever they may be, are like a favorite blanket. Every year we snuggle up in our traditions for the warmth they provide. We yearn for familiarity and comfort with our Christmas traditions. But here is the irony: while we savor a traditional, predictable Christmas, the original Christmas was the exact opposite. When that baby was born in the manger, everything changed. Everything was turned upside-down. Life, hope, purpose – everything — was shaken up, recreated and radically altered. It was the day that sparked a chain of events that left you and me and the world completely different. Yet we celebrate that day… with traditions, predictability and comfort.
So what should we do? I recommend this: Keep those traditions intact. But realize that Christmas is the harbinger of wild rebirth and mind-blowing renewal. Let your traditions continue to be your safe and familiar place, but never forget that the birth of Christ introduces us to a radical new life of compassion, justice and sacrifice. Maintain your Christmas traditions, but face the New Year ready for the surprises God has in store for you. Though we know the stories and carols and traditions by heart, we can never anticipate the adventures that manger-born Messiah has in store for us. So Buckle your seat belts. Put on your crash helmets. Christmas is here.