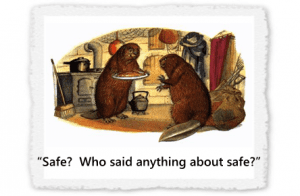 Those days at MD Anderson remain a blur. It was a milestone moment for all of us. But, strangely enough, it was a preacher writing a newspaper column that helped maintain perspective.
Over a period of three days, she went from her normal, vivacious self to someone who could barely speak and walk. We rushed her to the ER thinking she had a stroke. It was not a stroke. It was a tumor. Glioblastoma. My mother has brain cancer.
Each day I stayed at the Marriot Courtyard, near MD Anderson in Houston, I received a copy of USA Today. The October 17th issue included an opinion piece by Rev. Henry G. Brinton. Brinton suggests that we worship a God of security. He claims we have borrowed from our grandchildren to protect ourselves from terrorism and fight wars for the sake of national security. We throw money at anything that frightens us, we bunker ourselves in gated communities and we seek medical specialists to prolong our lives. Looking to God like duct tape to fix our problems, Brinton claims our need for security has reached idolatrous proportions. Praise God but keep your powder dry.
This article caught me at a strange moment. As I read it my mother was recovering from surgery at the hands of one of the world's leading neurosurgeons, supported by renowned neuro-oncologists, radiological oncologists, pathologists and hematologists. At this moment she is being cared for by a wonderful team of rehabilitation therapists and RNs. There is not a better place in the world for her to be.
Yet even as hundreds of people pray for my mother, Brinton caused me to ponder her situation. Is the care she is receiving and the prayers uttered on her behalf another example of how we worship a God of security?
On Saturday, Nov. 13th, our church is having a Holiday Craft Fair to support Heifer International. My mother was the organizer. During their High Holy Days, my mother helped with childcare at Temple Shalom. Cooperative Emergency Outreach in Fayetteville needs help stocking the food pantry because my mother, and others, are not able to this month. When a church member lost a loved one, my mother was one of the first to arrive with a gentle smile and a home-cooked meal. I could go on and on.
In the C. S. Lewis classic The Lion, the Witch and the Wardrobe, Lucy asks Mr. Beaver this question about Aslan (Narnia's Christ): "Then isn't he safe?" to which Mr. Beaver replies, "Safe?…Who said anything about safe? 'Course he isn't safe. But he's good. He's the King, I tell you."
So what about Brinton's editorial? Despite the efforts to save my mother's life, she does not worship a God of security. Her faith extends far beyond safety and protecting herself from trouble. She knows that her relationship with Christ is not about being safe, it's about relentlessly loving others, no matter who they are and no matter where they are. She lived and loved fearlessly.  So please pray for my mother. Like our Lord, she doesn't sit still for long. There is too much to do.