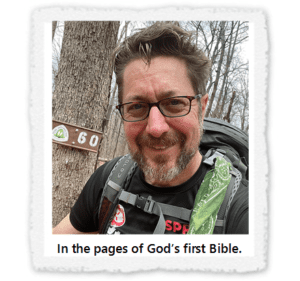 Yes.  It was harder than I thought it would be.
Immediately after worship service on Sunday, March 19th I hurried into my office and changed clothes. My wife drove me to Lake Fort Smith State Park. I was on my way.
I've hiked the Buffalo River Trail, done some overnight peak ascents in the Rockies and even graduated from Colorado Outward Bound school. But this adventure was a first.
My goal? Hike from Lake Fort Smith to Tyler Bend in 11 days. Fully loaded my pack weighed almost 35 pounds. It was an ambitious and strenuous goal.
I've always hungered for the wilderness. It's God's art studio. His first Bible. I yearn to see the same fingerprints in nature I see in scripture. The wilderness both challenges me and comforts me.
The first week was rough. Monday morning my drinking water froze solid. The week was cold and wet. And then a thunderstorm that literally lasted over twelve hours. But modern backpacking gear is as amazing as it is lightweight. My tent kept me dry but I had to evacuate a short section of the trail because of flooding.
At the halfway point I resupplied at the Ozone Post Office and ate the best hamburger of my life at the Ozone Burger Barn. It was the perfect respite.
The second week was sunny and cool— Ozark springtime perfection. The vistas and waterfalls and wildflowers inspired me. I began to believe I would actually finish this quixotic adventure.
However, as I turned north at Richland Creek, I noticed smoke. And burned ground. As I approached Stack Rock trailhead I looked up and saw a National Forest Service truck with some kind of flamethrower. I had hiked right into a prescribed burn. A burn unscheduled when I began my hike. What could I do? Stop and camp in the soot and the smoke? Camp on an unburned spot that could burn overnight? I realized I had to keep hiking, Which I did. Well into the night until I left the burn zone.
I reached Tyler Bend late the next night under a veil of brilliant pink lightning. I was done. 176 miles. 25,000' of elevation. 15 pounds lost. I found my car and got in. What are all these buttons? How does this thing work? Am I expected to drive?
I had succeeded. I had lost myself in Arkansas's stunning backyard. I had been immersed in creation's wildness and beauty. The unforgiving ferocity of furious flooded creeks and booming waterfalls. Deep cold and the appetite of fire. Intricate dragonfly wings and shameless wildflowers. Fallen trees, boulder fields and thorn-covered vines. Soft, moonlit clouds drifting between the crystal stars and swaying pine trees. I heard God's sacred voice in the world He made. I was overwhelmed with gratitude and joy.
My prayer for you: get out in it. Let His creation do its work in you. Find your place on a trail Or a river. Or in a campground. Find God's love there. You deserve it.