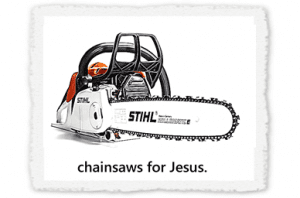 Sometimes the answer to "who is my neighbor?" is "the person who lives near you."
When I was in college I had a summer job as a tree surgeon. And we did not use a truck-mounted cherry-picker. We used ropes. Most of the time our task was 'fine pruning.' Fine pruning meant removing every bit of dead wood in a tree that was larger than a pencil. I remember tying ropes to all my saws and my lunch box and climbing up into a large live oak and not coming down until the end of the day. Some trees took several days to prune, but they looked terrific when completed.
Every day when I drive around Fayetteville I look at homes. And I look at yards. But mostly I look at trees. And because of my background I notice trees that need to be pruned or lifted or even repaired. Don't tell my church but there are times I would rather have a chainsaw in my hands instead of a keyboard or a Bible.
One home in particular kept catching my eye. Two friends of mine live there – a church member and her daughter. They have a beautiful lot filled with terrific trees and shrubs. But since the husband/father died, it has been hard to keep up with the yard work. Some plants had died and many were overgrown. If only there was someone who could help…
So on Labor Day I loaded up my saw, rake, weedeater and mower…and my family. The five of us cut (not counting Pearl, the wonder dog), raked and cleaned all afternoon. Keeping two sixth-graders, a fifth-grader and a beagle on task for that long was a challenge, but they did good work. And even though we were all sweaty and dirty, we left with a huge pile of brush and a tremendous sense of accomplishment. Every day when we drive by the house all three boys say "Wow, look how good that looks!"
We talked about Labor Day and how it feels to work hard. But the main lesson we learned was how important it is to help folks who cannot do everything for themselves. Several times during the day I recited a Bible verse I memorized over thirty years ago: "Religion that God our Father accepts as pure and faultless is this: to look after orphans and widows in their distress and to keep oneself from being polluted by the world." (James 1:27).
There are people all over NW Arkansas who need a little help. Maybe their health does not allow them to work around the house. Or maybe they need a ride to the grocery store. Or maybe they simply need someone to talk to. Let's all strive to take a moment and help our neighbors when they are in distress. You can even bring the kids and your own wonder dog.