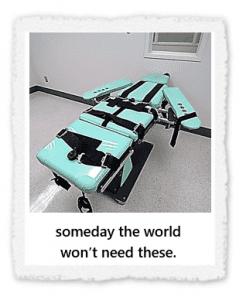 According to a recent update from deathpenaltyinfo.org, "Governor Asa Hutchinson sets dates for eight executions. The Arkansas Supreme Court imposes a stay on executions while evaluating the constitutionality of the 2013 secrecy law."
On Monday evening, November 25, 2005, Eric Nance was executed for the brutal murder of Julie Heath, a Malvern teenager. It was the last time Arkansas administered the death penalty. On the night Nance was executed, CBS news reports that about 30 people gathered outside the Governor's mansion and sang "Amazing Grace" while holding candles.
I wonder if those 30 people lit candles for Julie Heath.
There are currently 34 people on death row in Arkansas. Arkansas Department of Corrections invoices show that over $24,000 was recently spent for drugs to be used for upcoming executions. One of the three drugs, Midazolam, is connected with the recent problematic executions in Oklahoma and Arizona.
Now that these controversial drugs have been received, Governor Hutchinson can begin scheduling executions. So in the coming months, Arkansas will begin executing our death row inmates for the first time in ten years.
Just so you know, these 34 men have been convicted of horrible crimes. In a society saturated with violent television, movie and games we can easily overlook how terrible murder really is. A precious life has been taken. Justice must be served.
Christians fall on both sides of the death penalty debate. It is a complex issue, but when I consider this issue, several thoughts come to mind:
● Our Lord was executed. The horror of his experience concerns me. Is it possible we could execute an innocent person?
● Did you know it is cheaper to imprison someone for life than it is to execute them? Did you know that Arkansas allows life imprisonment without parole as a sentencing option?
● Would we rather trust the state to administer ultimate justice, or would we trust God to do that?
● Yes, it is tremendously merciful to allow someone to grow old in a prison cell while their victim lost their life instantly. But are we to err on the side of mercy?
● Can a murderer receive forgiveness from God? Is legitimate conversion possible for someone on death row? Does the grace of God only extend to 'good' sinners like us or does it extend to everyone?
● And while we are justifiably angry at those who commit such atrocious crimes, can we transform our passion into something positive? For example, what are we doing to comfort the victim's loved ones? What are we doing to make our state safer? What are we doing to share the love of Christ with the young men and women who have been warped by abuse and violence and humiliation – the ones most likely to commit heinous crimes?
No, I have not lost a loved one to violent crime. But I know our justice system does not exist to satisfy the victim's demand for vengeance. Our system of justice has a particular purpose within the social contract we live in together. But as Christians, we participate in an even greater system. We are citizens of a Kingdom that promises accountability and judgment for all people. We are citizens of a Kingdom that promises to bring wholeness and healing, where the King himself will dry the tears from our eyes. We are citizens of a Kingdom that will make everything right. We are citizens of a Kingdom built on grace.
Trusting God isn't always easy. And in the face of violence, it is extremely difficult. But that is what he calls us to do. I love the state of Arkansas…but my faith is in the Lord.