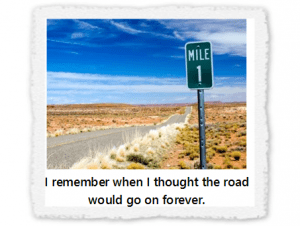 Years later there are still moments every day when I need my mom and dad.  Like a few days ago when we moved our twins into their dormitory.  
I remember when granddaddy died. They picked me up during lunch from East Junior High School and we flew to Mississippi for the funeral.
I remember driving to college. My blue Pinto was packed with stereo equipment and laundry baskets full of clothes.
I remember proposing to my wife on the south rim of Chisos Basin at Big Bend National Park and how she yelled "Yes!" to the world.
I remember standing in the doctor's office when they told us the ultrasound was thumping with two heartbeats.
I remember how big my kid's backpacks looked on their shoulders as they ran into Root Elementary School on their first day of kindergarten.
These moments were milestones in my life. Instances when everything changed. Each milestone brought new challenges…and new opportunities.
Today I stand at a new milestone. My father is in a psychiatric unit in Oklahoma suffering from advanced dementia. He enjoys my company but does not know my name. I suppose I look familiar but he tells me he has no children. Meanwhile, my mother is fighting brain cancer. She suffers from a variety of symptoms. We have not left her alone in four months. Yet her eyes still sparkle with love and joy. This milestone is a difficult one. Seeing my mother and father struggle with confusion and frustration breaks my heart.
My prayers are constant. But I do not pray "God, this is not fair!" For whatever reason, I have not felt that way. Mostly I pray for their peace of mind and well-being. I pray for their healing and improvement. And I pray for strength – my strength. I have no hesitation caring for either of them. I will help them get dressed, pay their bills, wipe their faces and clean up the spills. But I still need strength. Watching the people you love struggle with disease, even diseases of the brain, is exhausting. It is exhaustion that starts deep and creeps to the surface quietly and relentlessly.
My mother and father took me to wrestling practice, helped me with homework, fed me, read me bedtime stories and let me have slumber parties. They taught me kindness and hard work. They brought me into this world and cared dearly for me. Now its my turn. Perhaps I can offer them a fraction of the love they gave to me.
This milestone, like those before, is layered with complex textures. Sadness, doctor's appointments, cherishing happy moments, new financial responsibilities…the list goes on. But most overwhelming is the glimpse I get of the future – a future where I am the one blazing the trail. A future where parents and grandparents are no longer leading the way, but watching me with love from a distant shore.
Having passed other milestones in my life I have learned something. When I realize that something is happening that I cannot handle on my own, God arrives. I've learned that He is most comfortable in those moments where I am not. He is at His best when I am the most unsure of myself. When I step back and let Him be God, He runs to me with open arms. He provides assurance and comfort, giving me a perspective that uniquely His.
This is one of those moments. And I know you face them too. May each of us, as we pass these milestones, wait patiently for God to appear and guide us safely through. Because the journey continues. And other milestones lie ahead.