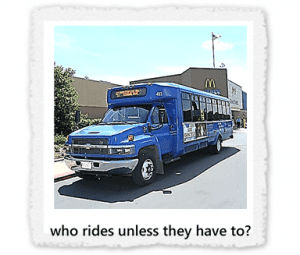 If we aren't careful, it is too easy to forget that there are people out there who either don't have cars or can't afford to use them.
Don't you hate sitting in traffic? Wasting time. Wasting fuel. And what about our roads? Traveling east-and-west in Fayetteville is not for the faint of heart. Trying to get where we need to go is serious business!
It's not uncommon for someone to come by my office needing money. My explanations about not keeping cash at the church and that we give to CEO (Cooperative Emergency Outreach) is usually not the answer these folks are looking for. But with ever-increasing frequency, the requests that come my way are not for food or rent or prescriptions. They are for gasoline. I heard someone talking excitedly yesterday about finding gas for under $3.50 per gallon. Did you ever think $3.49 gasoline would be a good deal?
At the beginning of 2009, the average price for a gallon of gas in the US was $1.70. Yes, that was unusually low. But in just over three years, the price to fill up our cars has doubled. In that same period of time, minimum wage has remained at $7.25 per hour.
There are many groups in NW Arkansas, both political and commercial, who want to see improvement and development in our area. They want better roads, rail spurs and sleek highway interchanges. This makes sense. We need infrastructure improvements to continue to attract new companies and new jobs.
But we can't think in one direction at a time. Just last week a gentleman came by the church. He was clearly frustrated. He was proud of his new job but did not have money for gas to get to work. I gave him what I had in my pocket and his gratitude lifted my spirits. We need to remember people in situations like this.
In our neck of the woods, public transportation doesn't get much attention. We love our cars and trucks and perhaps assume that everyone owns a car and can afford to keep gas in it. But I know for a fact that is not the case. There are many hard-working families in NW Arkansas who cannot afford to buy the gas they need. And we must consider elderly and disabled citizens who need to get to doctor appointments and grocery stores. These are people that we may not know about – they aren't on regional boards or transportation commissions. They aren't able to come to meetings about economic development. They are easy to overlook. But they are a reality in our neighborhoods and communities.
On May 22 the polls will open. One item on the ballot will be a ¼-cent tax increase to help fund public transportation in NW Arkansas. As the population of NW Arkansas has grown, we are losing federal funds for public transportation. That ¼–cent will help add buses, routes and bus stops. Yes, public transportation is more economical. It reduces traffic. It is easier on the environment. And it provides affordable options so our friends and neighbors to get where they need to go. But, perhaps most importantly, it is one way we can show kindness to the mostly silent and invisible among us who can't afford to drive to work.