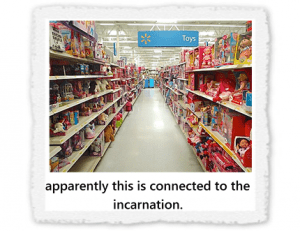 What I do not miss is going home after the midnight Christmas Eve candlelight service only to assemble a bicycle or go-cart. What I do miss are the exclamations of delight only a freshly unwrapped toy can bring.
Sometimes I am an oaf. Last month a friend was talking about his son playing his last high school football game. Actually, he was telling me about how fast kids grow up. He was telling me about life changing. He was telling me about growing older. I missed it.
Then the other day I was in the toy section at Wal-Mart. Suddenly I stopped walking and just stood in the middle of an aisle crammed with Hot Wheels and Barbie dolls. I realized that I would not be buying toys for my kids this year. They want electronics and mini-bikes and crossbows. Suddenly I was the one having the "my-kids-are-growing-up-too-fast" moment. Oaf karma.
Throughout my childhood, Christmas was always a magical time. I was showered with gifts in a house sparkling with holiday cheer. And Santa always brought me a stocking. For some reason, however, Santa stopped bringing me a stocking after my mother died. And now Christmas is different. No stocking. No mountain of gifts from mom. No parent's home to go to for a week of eating and watching football. Everything has changed.
My children have already latched onto traditions. They expect certain things to happen at their birthday parties, when they lose a tooth and, of course, at Christmastime. The traditions they are enjoying now will be a part of their lives forever – until that day when they are no longer on the receiving end of these traditions but, instead, sharing them with their own children.
Change is, of course, inevitable. Music changes. Technology changes. Society changes. But some things even change that we never expect – like Christmas. And one morning we wake up and realize that what we have relied on throughout our lives– such as our health, our children, church life, even stockings from Santa– are not what they used to be.
But through the kids leaving home, bones growing brittle and stockings collecting dust, some things remain. The Bible says Jesus Christ is the same yesterday and today and forever. And as the world spins by I find tremendous comfort in the constancy of Jesus. Whether the infant-in-the-manger, the traveling preacher or the Son of Man wrapped in glory, he will always be there. He will always be there for me. And he will always be there for you.