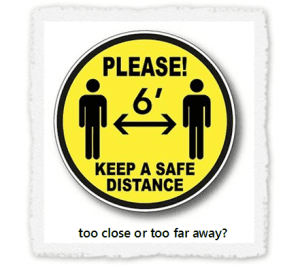 My phrase for what life will be like after this is over:  The Great Reboot
Last week I finally raked my leaves. Yes, the leaves that fell in November. Forty bags lined up in front of my house. So I called the City of Fayetteville Solid Waste Department and told them what I had done. "Forty bags!" they said. I was chagrined. But within 30 minutes a crew came, with a wave and a smile, just to pick up my belated leaves.
Later that morning I called the City of Fayetteville Water Department. Was the big muddy spot in my yard from a broken water pipe? Again, in about 30 minutes a friendly fellow with testing gear was diagnosing the problem.
I am in my first year as a member of the City of Fayetteville Parks and Recreation Advisory Board. Let me assure you that every employee of the Parks Department that I have met is not only highly competent, but they love what they do and they love Fayetteville.
We are inundated with voices. Talking heads on television and a cacophony of opinions swarming social media. Many of these voices are angry, critical and even conspiratorial. For some, everyone in government is a corrupt, incompetent liar. That premise is absurd. There will always be bad apples in leadership, but most are underpaid and overstressed but just want to help. Real-life people doing their best.
But government-as-enemy is not the only ranting I hear. Social media also carries voices criticizing those who need government subsidies to provide for their families. Meanwhile, my friend Pat travels to the Arkansas Delta each month to help impoverished families, feed children and stimulate a desperate economy.
Social media also carries voices that encourage harsh treatment of those in our country who are not yet citizens. Meanwhile, my friends Jack and Elton embrace at-risk kids in NW Arkansas, citizens or not, by coaching through hot summers, driving endless miles to tournaments and supporting their families.
Social media also carries voices that claim each person should take care of themselves and that people holding signs on the side of the road are a public nuisance. Meanwhile, my friends Betty and Patty help Cooperative Emergency Outreach give fuel vouchers, utility assistance and groceries to the most vulnerable in our county.
My church is now both live and virtual. COVID has forced that change. I have mixed feelings about this. Will online church add to recent trends of life-behind-a-screen at the expense of face-to-face interaction? Will we further forget that others, including people in government, are real people? Will the volume of ranting voices increase at the expense of actually rolling up our sleeves and helping people? Will the Biblically-mandated, relational environment of Christianity be diminished even more?
Social technology is terrific. But it can also sicken us. Eventually the virus will die and we will have decisions to a make. Will we live differently? Will we dig deeper into our bunkers? Will we remember that "they" are real people? Will we choose to prioritize the people around us even if it means actually being with them face-to-face? Who will you be when this is over?