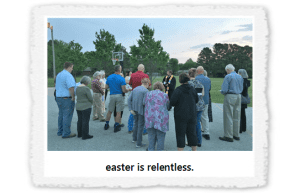 Little did we know that this would continue for over a year-and-a-half.
Do I need to describe how odd it is to preach in an empty sanctuary? Or do a Bible study in front of a laptop? Or livestream myself on Facebook?
But I am grateful for the technology that allows me to stay connected to my church friends. And I am grateful for my quirky family, both furry and non-furry. I am grateful for springtime in Arkansas. I am grateful that the shadow of Lent is about to be outshined by the brightness of Easter.
But Easter will be different this year. Christians, active in churches or not, consider Easter to be the most important celebration of our faith. Christ's victory over sin and death on that first Easter is why we gather on Sundays. Easter celebrates our hope and joy and gratitude to God. The fraction-of-a-second it took cold Jesus to open his eyes in that tomb changed everything. Forever. Thank goodness.
But what about Easter without worshiping together? Over 2500 years ago, God's people were force-marched from their homes by a conquering enemy. An ancient songwriter told the story of being unable to worship in familiar ways:
By the rivers of Babylon we sat and wept
when we remembered Zion.
There on the poplars we hung our harps,
for there our captors asked us for songs,
our tormentors demanded songs of joy;
they said, "Sing us one of the songs of Zion!" (Psalm 137)
The enemy dragging us from our places of worship is not Babylonians or Persians but a microscopic sphere of proteins and lipids. Like God's people of old, we must adapt and find new ways to worship God and follow Christ.
So how will ungathered Easter change us? No doubt "virtual church" will become more popular which brings both positives and negatives. In the 14th-century the Black Plague decimated Europe. Though COVID-19 is not near that deadly, the Black Plague brought the end of feudalism, the rise of middle class workers and the origination of the beloved pub.
No, churches will not gather and celebrate the resurrection of Christ. But maybe another resurrection will be celebrated. Maybe love will be resurrected. Maybe compassion between the "haves" and the "have nots" will be resurrected. As food pantries and jobless benefits are overwhelmed maybe generosity will be resurrected. Maybe we will stop thinking only of ourselves and neighborliness will be resurrected. And maybe we will remember that everyone was worth dying for and everyone is welcome to the resurrection.