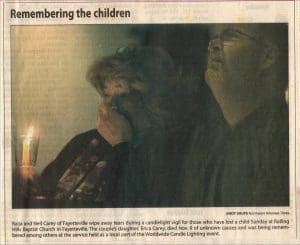 For the last 13 years, after one of our nursery workers lost a daughter in a vehicle accident, Rolling Hills Baptist Church has conducted a Candlelight Service for grieving parents.
This year's service, held annually on the second Sunday of December at 7pm, will include a keynote address by the new director of Parents Left Behind, TaNia Brewer, special music and the opportunity to light a candle in memory of your child.  A reception will follow so you are invited to bring pictures of your child to display.
The service will be held on Sunday, December 12 at 7p at Rolling Hills Baptist Church, 1400 Rolling Hills Drive in Fayetteville.  The service will also be available for online viewing at the Parents Left Behind Facebook page.
Please share information about this service with any grieving parents that you know.  If you have any questions, please contact us.