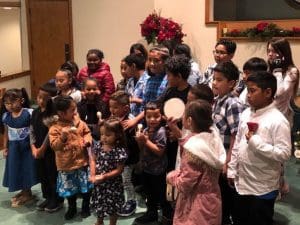 Our annual Christmas Eve service will be held at 5:00.  You are warmly welcome to attend and bring your family and friends.
This year's service will include the Christmas story — acted out with costumed characters (yes, you are welcome to participate!), handbells by the children, a special Christmas message, music from our friends from the Marshallese church that shares our space, the Lord's Supper and we close the service as we sing "Silent Night" by candlelight.
This is a wonderful time to celebrate the true meaning of Christmas!